Okay; my rants are becoming more and more often; but seriously; this is an issue I NEED to discuss

---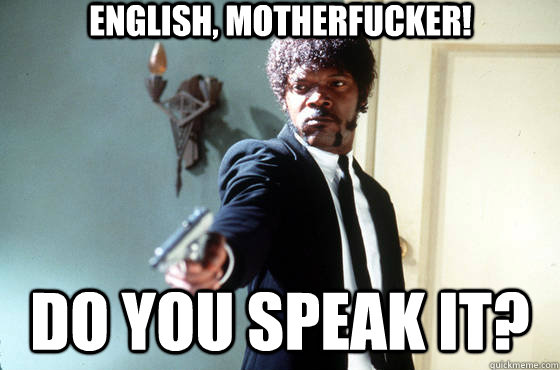 Actually; I do, right now

However; as some of you know; English is most definitely not my native language.
Like; at all.
And funnily enough; most of my DA friends have the same "problem"

In fact; lately I've been meeting more and more examples of how not being a native English speaker is considered a
problem
by some strange persons here on deviantArt.
And thus I want to talk about it.
---
When I'm targeted about speaking a language other than English; it's not more annoying than a gnat, honestly.
But when AT MY PAGE my watchers are being targeted because they don't use English when talking TO ME....

---
Moreover; at most of the times I realize we talk
in English
with my Russian friends when we could have as well spoken our sweet native Russian.
Yet for some reasons we still stick to English - I don't know why; may be because it's fun?

But not all of our compatriots here know English to a CPE/120 pts TOEFL level and I absolutely HATE it when some brat comes up and demands them to speak English; because you see, that brat has troubles with understanding and others just OWE him explanations.

Thus; let's be honest.
Questions to the reader:

English-speakers; does the use of other languages in comments; journals and authors' notes really offend you?

Non-English-speakers, do you ever get harassed due to your use of your native language?

Any ideas how to tolerate this?

Footnote.
If seeing a comment in a language other than English offends you; please LEAVE IMMEDIATELY and preferably without making much of a fuss.
You're not welcome here if you can't tolerate the fact other people speak differently.
Or you may personally ask me to ban you.